England-UK

I breastfed my little girl for 5 months exclusively and then for another few months alongside formula and solids. I live in London and am glad to say I have never had anything but a sense of approval from passers-by or restaurant staff etc. The first time I attempted to breasted in public was in a restaurant and my baby was 10 days old. It's a bit stressful the first few times but soon it becomes really natural. I made myself do it. I was not prepared to sit at home all day with a baby! I found it so convenient to be out and about and be able to sit down whenever my baby needed to feed.

I worked out what worked for me, like black vests under all my clothes so I could lift my jumper up and the vest and bra down and therefore expose no flesh at all once the baby was latched on. I breastfed in public in Paris which I was nervous about by the famously rude Parisian waiters were lovely. I even breastfed at lunch everyday in a ski resort in France and never felt any disapproval. I am Irish and my sister recently had a baby and unfortunately I think breastfeeding in public is still a taboo in Ireland.

But I agree strongly with previous comments. A critical mass of women need to start doing it openly for it to become normalised. I felt brave but the first few times I breastfed in London but I think it's harder in other countries.

Laoise

---

I'm 20 years old and still breast feeding a 16-month old, and I have no intention of stopping anytime soon. I'm a single mother and I'm incredibly proud of my work and hope it's the best for my baby, here in the UK I'm on of 0.51% of under 21s still breast feeding beyond 5m! Cc

Rebecca shaw

---


I read the statistics the UK re breastfeeding and it seems that breastfeeding when baby's first born is becoming more common here - it has increased from 71.7% to 73.7% in the past couple of years. However at the 6 week health check only 46% are still breastfeeding. I think a lot of this is due to the (perceived) attitudes of the general public. Although I have BF in several cafes, pubs, shopping centre etc, friends do make comments like "I can't believe you just got your boob out on the bus!" People like to have something to complain about and they would whinge about a crying baby for a 30 minute journey, so they'll just have to live with me feeding her!

I think it's because in the 1950s/60s a 4 hour feeding routine was "the norm" right from day one so many women struggled with establishing their supply and started to formula feed, so it became a rarity. My granny who is 78 has commented that my little girl "can't be hungry again" when she is on 3 hourly feeds - I have explained it is because BF babies digest the milk quicker! I have never had any negative comments and the only time it has caused embarrassment (theirs, not mine!) is when I am managing to BF so discreetly that people come and put their faces right up close to have a look at the baby...

Sophie W

---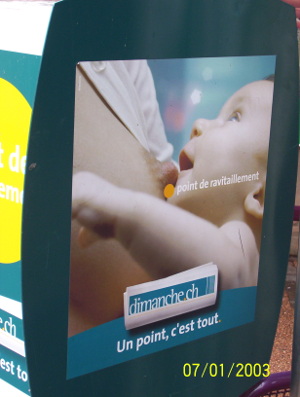 This ad photo was seen on the side of a newspaper vending machine in Switzerland. It says: "Point de ravitaillement" - place of resupply.

Photo courtesy of Kimberly Radtke, Seattle, WA.


It makes me so happy to see all the positive comments on breastfeeding around the world, but makes me want to cry about my own country. I have three grown up children, who I breastfed for an average of three years each. I had to fight for my decision and take lots hostility from others (including nurses at the maternity hospital), back in the 80s. Now, although breastfeeding is encouraged by the midwives (at last), the residue of uncertainty still lingers on with young mums' today. Only 3 percent of UK women breastfeed baby beyond five months old (see link below)

Breastfeeding rates in the UK

They seem to believe that it is a bad thing to breastfeed in public, and that if they do 'dare' to do it, they must 'cover up themselves', in case a pervert is watching them. Because of this, many women will pump their breast-milk before leaving the house, so they can give it to their baby in a bottle. I can only hope that things get better, and women in this country believe in themselves and the wonderful achievement of giving their baby what nature intended.

concerned English woman

---

It is uncommon to see women BF in public, unless they are with a group, perhaps meeting up. It is very common to see women bottlefeeding, on the bus, in the park AND increasingly more so, these days, talking on their mobile at the same time. It tends to be more uneducated women that bottlefeed from the start and many women complain that they feel pressurised by the hospital and health professionals to BF, many young women think it's disgusting and yet will wear plunging necklines in the daytime. They don't seem to have the confidence to feed in public.

When I BF my children, no one ever bothered me when I fed them and maybe they felt they better not! Charities and the NHS try very hard to promote BF but unless we see more of it our young people won't think it's normal, convenient and satisfying.

FA

---

I think in England, breast-feeding is widely encouraged however, there are still a lot of mixed feelings towards women who breast-feed in public. Personally, I feel there is nothing more natural in the world than feeding your baby this way and no woman should be made to feel embarrassed or discouraged from doing it in public. In fact, in England, by law, a woman is allowed to breast-feed in any public place and anybody who tries to stop her can be taken to court.

Olivia
---

A number of years back I was in a restaurant as a party of 4 men for a business lunch, a couple of tables along there were a couple of mothers discretly feeding while dining and a man on another table complained to the waiter. The waiter started asking the mothers to stop so I stood and called to the waiter that we would be leaving if he continued, he did continue. In a louder voice I asked for others to stand and support the mothers and about a dozen others also stood. The manager came out from somewhere spoke to the waiter then the man who had complained and politely told him the women were welcome to feed if they wished and if he still objected he was welcome to leave after settling his bill, he rushed his meal and left.
I told the manager to put the cost of the womens meals on my account, he promptly said he would not be charging them. When the women finished they packed their buggies and left, a few minutes later one returned, came over to our table and gave me a thank you card, we got into conversation and she said the two of them treated themselves to lunch out while they could as they had just heard that the company they worked for had gone into liquidation and lost their jobs and companies maternity pay.
The result was one of the other guys in my party gave them both a job setting up and running a creche at his company and I became a godfather to both their babies. The restuarant set up a Kiddies area with more suitable seating for toddlers and feeding mothers. and got more customers into the bargain.

Harvey Hess

---

Wales

My daughter is 13 months old and is breastfed. Breastfeeding is beginning to become more popular here, but generally it's only the middle class that breastfeed. Younger mothers and mothers from a more working class background tend to give their babies formula. I firmly believe that this is due to a lack of support and of education on the importance of breast milk. When I gave birth, around half of us breastfed, the other half didn't try and weren't encouraged to either. On the question of feeding in public, I did when baby was a new born, after 6 months I never fed in public because I've had as one negative comments regarding feeding an older baby. I wish I had the confidence to feed her anywhere, it's a shame that society treats nursing a toddler as something shameful. When my daughter was 11 months, a friend said that my breasts should be in my husband's mouth by now and not my baby's. I have done a lot of research on the benefits of nursing and don't intend to stop until she feels ready. All this judgement is nonsense, it's totally natural, you don't see cows giving their calves a bottle just because there's other cattle around!

Helen

---
Breastfeeding pictures across time and cultures collected by ygaloupint
---

South Wales

I had my son in South Africa where breastfeeding is much more accepted. The first 14 months was a joy as we were able to go out for the day without worrying out bottles, etc. We moved back to the UK when our son was 14 months and even though I continued to breastfeed him, I felt a pressure to stop because it wasn't the norm. However, I didn't want to stop so joined a breastfeeding support group and through that support, I reaslised that what I am doing is perfectly normal and I shouldn't be embarrassed at all. My son is 21 months now and he is still breastfeeding at night and sometimes in the day. If we are out and i need to feed him, I just make sure I am discreet and most of the time, I don't think anyone notices. i think breastfeeding is wonderful and wish Wales was much more accepting as it is such a beautiful experience!

JF

---

I live in south Wales UK. the general public here have mixed reactions/opinions to breast feeding. There are many women who breast feed in public- I was one that at first was very embarrassed, however the support group that I attended weekly along with practise helped me gain confidence as we continued to feed. By the time my daughter self weaned at a quick 1 years of age, I would discreetly feed her anywhere any time. We have many suppport groups in wales. I along with fellow volunteers have trained as peer councelors. We do weekly hospital visits & are currently applying for funding to set up a support group for breast feeding families from 0 to 5yrs.

Shaz
---

Wales
I am a mother in Wales, and I have only once breastfed my child in public due to embarrassment and humiliation. This is becuase Wales(similar to England) is very judgemental about issues such as the perfect body etc. I would love for Wales to follow in Norway's footsteps, and accept that breastfeeding is a way of life that is helpful not only to baby but mother too.

Arianwen
---

London
Breastfeeding is very rare where I live. All of my age group (teenagers) are repulsed when I say I want to breatsfeed my child. My mum was and is the only one breastfeeding in our family. Extended breastfeeding is definitely a no-no and even my auntie told me it's disgusting and unnormal for toddlers to breastfeed. That prevented me from telling her that I wanted to breastfeed extendedly.

It's very rare where I am from to see young parents breastfeed amongst all races. I think only the older mums do it.

ms williams
---

I feel relaxed breastfeeding my 10-month old in various cafes and parks where I live in South East London. There are lots of bf mothers in this area, which helps. As someone else says here, as the child gets older they can be more distracted and 'pop off' unexpectedly. For this reason I just make sure she's really hungry before feeding her now. I've fed her in some more sub-urban South East England areas, where no one else was feeding, but found that the confidence I'd built up at home made me feel ok. I find that hardly anything shows if I wear a tucked in vest with a loose top on top. Pull the vest and your bra down and the loose top up. Your tummy and back are covered by the vest and the loose top falls softly on your baby's face covering your breast.

LC
---

I am almost 3 months in to exclusively bfing my baby girl. I have bf in the car, on the beach, on the promenade at the coast and under trees in parks and gardens. I have joined a number of groups for new mothers, one - 1st time mums, is a scheme set up locally by the NHS, every mother there (about 12 of us) either is still bfing or tried it - I think even in the last few years there has been a massive increase. I have found lots and lots of support available locally, and was given more assurance to do it publicly when a health professional advised me I am protected by law to do it in public places.

I haven't been addressed appropriately or inappropriately by anyone, but I am always prepared to fight my corner knowing I am backed up by law! Having said that my hubby is a police officer and he wasn't aware of these laws.

I am so pleased I have been able to do it and know the joy and pleasure I get from knowing I give my baby everything she needs. I want to encourage all new mums to try it, and to try and get through any pain or cracks or frustration - especially when you are so sleep deprived (I had it all)
BR
---
A Venezuelan phone card from CANTV company is showing a breastfeeding mother. The backside explains how Venezuelan law grants all working mothers the right to breastfeed, and encourages working mothers to pump their milk for their baby.

I am a male so perhaps you might like my views and experience. I am 60 now, and back in the 50's I remember my mother breastfeeding my baby brother outdoors on the beach, with a towel discretely placed.

With our own children, (late 70s 80s), there was a big push for breastfeeding again and my wife was successful in this (I recall it could be a painful process, with cracked nipples, and would have been all too easy to give up). She was discrete in public, although with a younger baby (below 3 months) it is hard to be out all day. Our two boys were breastfed exclusively until about 5 months, and then slowly weaned off, but still had a night-time suckle for some time afterwards.

The problem as they get a bit beyond 3 months, is that they are easily distracted by other sights and sounds as they develop, and they are constantly 'unlatching' to look around. This, rather than privacy, was the main reason to seek a quiet place.

From a man's point of view, it is difficult to know how to react if you see a woman breastfeeding. Usually the mother is intent on the baby so you do not meet eye-to-eye. But if you do then a smile is better than looking away swiftly. Good luck to all who are doing the best for their babies.

S.A.
---

I have tried BFing in cafes when unable to get back to my car, and, being discrete have had no problems. Added support from husband in shielding gives me confidence - if I don't feel conmfortable the baby will just pick up on that and make a fuss. I always thought it was rare to see a mother BFing here but since having my baby I have suddenly realised all those mothers in Starbucks with a sleeping baby on their lap are actually feeding! I guess a degree of common sense is useful - baring whole breasts in a public place would, I am sure, cause comments, giggles, staring etc. I am always worried about being asked to leave somewhere if spotted but so far so good. I know that shops such as Mothercare and Blooming Marvellous have feeding rooms which you can use even if not buying anything.

I am travelling by train form London to Nice soon and was wondering how the French react to BFing as it will be long journey if I have to hide in the toilets!

CT
---

I have only seen one woman breast-feeding in public (or at least that I can remember) which was on the bus home from school. Many of the other children were sniggering, but I was more mature. I also couldn't help but look. The woman didn't seem to bothered by that fact and just smiled at me. Personally, I believe more women should breast-feed in public. I plan to do it when I have children in the future. At the end of the day, it's about what's best for the baby, and if the baby needs to feed, milk shouldn't be denied because people see it as inappropriate when it's a natural process

Katie
---

My daughter is almost 10 months old and I still breastfeed and I have had no adverse reactions from people when I have feed her in public, although I always ask the staff if I am in a cafe etc.

MYJ
---

I BF my son alot in public. I just used to wear easy acess clothes LOL, never had any comments made to me. Lots of older women gave me smiles and nods. People would come over to see the baby and not realise I was feeding him. Lots of younger women are curious, I didn't make any other mummy friends who BF. In fact I don't know anyone who BF.

Rubes
---

I have an 11 week old daughter, I had a difficult labour and had to have an emergency caeserean, I had wanted a natural birth. However breast feeding gave me a sense of accomplishment both of us enjoy BF. Because of this I was determined to bf in public I was very nervous at first but I have been discreet at all times, though in the back of my mind I am always fearful of someone asking me to leave an esablishment it hasn't happened yet maybe attitudes are changing.
Someone wrote in the other comments that not enough women do it, I agree whole heartedly, if more women bf in public then it would become part of the norm, so far I have not seen any other women bf in my area.
I am very lucky I have a fantastic husband he is very supportive and helps sheild me when I am sruggling to latch baby on at the start,you know what its like other bf's when sitting in an awkward chairs with awkward tops! even more so he is proud of me for doing it. It is strange how something so natural is frowned upon in certain arenas so much.I am travelling to Bulgaria, are there any rules governing against bf? if not what are the general attitudes to bf?
To finish off keep strong all you brave public bf mums, let's set a precedence for the future mums.
Ali
---

I think breastfeeding figures are quite good in the UK now - 60-odd percent. But in public I agree, it feels embarassing, though in fact British people tend to be too shy to say I they disapprove anyway! If you bared a whole breast you might find people giggling.

I'm pushing myself to feed where it's comfy and have refused to do it in public toilets. It feels liberating to bf in public and overcome by British reserve!

abigail
---

My son is now 7 months old and has never been given formula. We have been all over the place and never had a negative comment about feeding publicly, possibly because we are very discreet about it as most women are. The brits tend to have a bit of a breast obsession (look at the carry on films!)and I think this adds fuel to the anti-public feeding bods who conveniently forget that there's very little, if any on display. I know a number of newish mums and can count on 1 hand those who breastfed past a few weeks. There's a huge amount of pressure to breastfeed when you have a baby but very little support for those who find it difficult; I know mums that were scared to tell their health visitor that they were stopping but were given no help/encouragement to continue. Even the growth charts are based on formula fed babies despite government guidelines to exclusively breastfeed for 6 months! There needs to be more NHS support available to new breastfeeders to increase numbers, only when it is seen as more common place will attitudes start to change.

Rachel
---

I think it's great that so many women other than myself breastfeed. I was determined to breastfeed whilst I was pregnant and all my midwives and health visitors were very encouraging, one because its so rare to see a breastfeeding woman nowadays and two because im still only a teenager. My fiancees mother told me I would loose my milk in a week and would never get it back and tried to constantly get me to formula feed, have you ever tasted anything so disgusting, it tastes like flour and water!!compared to a mothers milk anyway! My daughter is now a healthy 11, nearly 12 month old and my milk is pouring out of my earholes! My fiancees dad wouldnt be in the same room as me even when my baby was only hrs old he aparently feels 'uncomfortable' with the situation because he's a catholic, he is only uncomfortable when it suits him, and in my own flat i'm expected to cover up or leave the room, covering up disturbs my baby now breastfeedings natural and shouldn't be taken for granted. I've been discouraged from breastfeeding in public, but I feel comfortable some people are really pleased to see young mums feeding babys, but with all the paedophiles around who knows if you are safe im still a child myself! People who believe breasts belong to their partners dont forget what they were originally given to us for, baby comes first, men can care for them selves, a baby relies on its mother, wether adopted or not a mother is a mother so long as she cares for another who loves her back and needs her.Keep it up ladies!!x

Pam
---

My daughter is two months old.
Cultural attitudes have not helped our breastfeeding. It is a very subtle pressure, but nevertheless there, to breastfeed in a place away from public view. Many restaurants and public places, such as railway stations have no clean or comfortable area where you can go to breastfeed your baby. I find reactions from family often difficult and at the beginning found myself getting stressed out. and often resentful when visiting, (or even having visitors in my own home) as feeding my baby always meant going into a 'quiet room' away from the main social event. Strangely enough, larger public gatherings were less of a problem. My confidence is growing as time goes on. I had a row recently with my sister who objected to a woman who was 'agressive' about her breastfeeding. After having experienced how difficult it can be, I applaud any woman who breastfeeds in public as she is an instant role model for others.

FL
---

I am breastfeeding my ten week old son and have done so on the bus with the help of an Australian lady who "shielded me" and held onto my pushchair, in a gallery cafe and restaurants. I have noticed that men are generally a bit embarrased and older women incredibly encouraging! Women in their twenties /thirties who dont have children seem the most sceptical - so far.

I got v.dirty looks from someone I would have classed as "right on" whilst my mum's friends are incredibly encouraging and have been cooking Indian porridge and sweets which they believe will help increase my milk supply!

Also, I have been trying to find a good sling for a short (I am only 5ft 1'') to help with the breastfeeding. It can be tiring without a cushion in public places. Has anyone found a good one?

Thanks
shahira
---
Beautiful breastfeeding pictures around the world collected by BosomBuddies
---

I know several mums with babies similar in age to my daughter. Half of them never breastfed, a couple switched to formula after a week with insufficient help to continue and in pain from bad latches. A couple more continued to around six months... At one year I am the only solitary one!

I have seen one other mum feeding in public - and I met her through a breastfeeding support group. I have never personally had any negativity but I have read a huge number of highly offensive comments on various message boards about "whipping out [our] blue veined tits" and comparing public breastfeeding to defacation and/or sex.

Every time I read something like that I dispair for the future generations who may never see a nursing mother or in fact know what it is breasts are *for*. I was approached recently by an eleven-year-old who was full of questions. "Won't baby be hungry without her bottle?" was the one that got me. She had never some across the idea that breasts were for babies.

I am personally quite sure that the same people who write objectionable things about breastfeeding mums "inflicting themselves" upon the general public have no problem with browsing porn. The British corner-shop-culture is rarely without its top-shelf nude mags, though I think public nudity is still a major no-no.

How can the tiny ammount of flesh on show when I feed be a problem compared to the lack of clothing covering many teens the moment warm weather hits? It's a huge double standard here. SLC
---

Most women here are die-hard formula feeders - hospitals and health clinics are very quick to give the baby formula if 'things aren't working' in my area - (but there are some baby friendly hospitals about where it is done differently).

I am the only person I have seen for about a year nursing in public - and I do nurse my 22 month old in public quite a lot. We live in South East London. We do generally go to the same places we always have done in the week so we know we are 'safe' to be ourselves, and no one has ever commented - I think it may be because I look too normal! I have two older children and a husband with me when we go out for the day at weekends and no one has ever said anything critical when we go to other places. I do know of other breastfeeding mothers in our area, but they tend to stay behind closed doors.

When my babies were small, the only comments I ever had were favourable - lots of coos and smiles. There was a piece in the local paper a few weeks back where two mothers had been asked to leave a department store because they were nursing - but there was a huge backlash. That said National Breastfeeding Awareness Week (in May) is always met by a lot of extreme views in the press - and this incident was reported at the same time as NBAW!

Most mothers are interested in breastfeeding, even though they 'couldn't do it themselves' I have had lots of interesting discussions with them. One or two, however, see breastfeeding as disgusting - seeing their breasts as sexual objects only, and very much their husbands' property.

No one, however, bats an eyelid at the multitude of semi-clad women in advertising or topless women on the beach.
Jane
---

I feel I must disagree with the idea that most women in Britain formula feed. Throughout my pregnancy it was assumed that I would breastfeed, indeed the midwives and literature that I was exposed to push it very, very strongly, almost to the point of making one feel guilty if one does choose to bottle feed. There is an awful lot of support for breastfeeding Mums here as well, with hospitals providing breastfeeding counsellors for women who are experiencing problems.

Unfortunately, in my experience it is rare to see a Mother breastfeeding in public in Britain. Possibly the stereotypical view of uptight Brits scares Mums off it?! I myself was asked not to breastfeed in front of my Mother's partner as it made him feel uncomfortable, an attitude I of course respect in their own home, but do not agree with in public places. What can be more natural, loving and normal than a Mother nurturing her child?

Alex
---

I have a 4 month old son, who has never tasted anything other than breastmilk. I breastfeed in public anywhere (using discretion, but certainly no cover-ups/blankets) whenever he needs feeding. All our friends , including childless ones think that it is great, and I have had no negative comments/reations at all. Older ladies have come up to me and congratulated me for feeding my baby! I live in the west country where I think people are more into natural living, which may be why I have had such a positive experience.
MRV
---

Most mothers is the UK start out breastfeeding, and then introduce the bottle very early on. There still is quite a bit of controversy over breastfeeding in public places, as it is not seen as acceptable. It is nearly unheard of for a woman to breastfeed in public, and very unlikely that one would breastfeed in front of even close family members. Of course, topless beaches are considered "foreign" and "European" and too sexy for families. Many people might say that they approve of breastfeeding generally, or that they don't see any sexual overtones, but the reality in practice is quite different. I am pregnant now, and my mother-in-law is adamant that I should offer my child a bottle from the begining, so that I "have some time to myself" and so that I can "get along in public." Being from Southern California, where I grew up seeing open breastfeeding often, I think that the common British attitude is very unnatural and uptight. I am glad to see that organizations like the National Chilbirth Trust are attempting to turn the tide and encourage more women to breastfeed.

LRGA
---

Firstly, thanks to setting up this website - I'm trying to organise a holiday with my breastfed baby and need a country that's open to breastfeeding in public! Secondly, I'd like to disagree with LRGA above in that I breastfeed everywhere and haven't come across any problems or even disapproving looks (which in england is saying something). If people are uncomfortable they are probably too polite to say anything. My experiences are limited to London and the south east but I've breastfed everywhere (cafes, train stations, galleries , restaurants even trains and buses). Having a 6 month statutary maternity leave (extendable to 12 months) means that a lot more people breastfeed and for longer than ever before. It is also very actively encouraged by the NHS through the midwives and health visitors as well as the NCT and the La Leche league. I'm pretty sure the stats are better than the US (prob due the 6 month mat leave. On the other hand topless beaches are rare and ntot approved of generally (but this could be the weather as much as the attitude!!!)

SLS
---

I am an American living in London and I have never had a problem breast feeding in public in four years of nursing my two kids. No comments, no dirty looks, I've nursed in front of my inlaws, friends, in restaurants, in parks, in Buckingham Palace while on a tour... I don't think the attitude is particularly uptight.

And while topless beaches might not be the norm countrywide there is a nude beach in Brighton.

IMEL